Tips/ Resources
Tips & Resources
We have provided some information for you that explains the different requirements to obtain your Michigan driver's license, as well as some guides for driver safety. The process is straightforward, but there are some key details for which you should be familiar. As always, we are here to help you with any questions that you may have.
Graduated Licensing System
GDL is a driver licensing system designed to teach teens to drive by gradually increasing their driving privileges as they advance through the system. GDL consists of two segments of driver education instruction and three licensing levels.
The three licensing levels in GDL are: a supervised learner's license (Level 1 License), an intermediate license that limits passengers and unsupervised nighttime driving (Level 2 License), and a full-privilege driver's license (Level 3 License) issued after a teen driver has successfully completed all previous instruction and driving requirements.
GDL license levels 1 and 2 have certain restrictions to limit teens' driving exposure to high-risk situations and help protect them while they are learning to drive.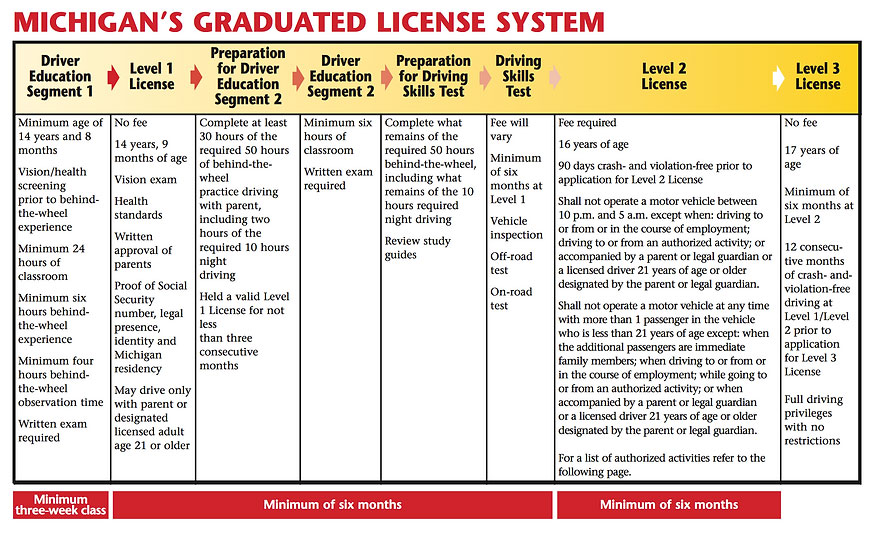 Driver's Education - Segment 1
Level 1 Learner's License
Driver's Education - Segment 2
Level 2 Provisional License